Travelling to England for an abortion 
If you need to travel to England to access abortion care, we are here to support you
Every year, thousands of people who are unable to access abortion care in their country travel to England for safe, legal treatment.
We are here to support you in your choice, discuss all of your options and make all necessary arrangements so that you can access care in England with MSI UK. Keep reading to learn all you need to know about accessing abortion care in England.
---
What does the law say about abortion in the UK?
In England, Scotland, and Wales, the Abortion Act 1967 made abortion legal as long as specific criteria are met. It is possible to have an abortion up to 23 weeks and 6 days of pregnancy (gestation). There is no gestational limit for abortions if there's evidence of a fatal fetal abnormality or a significant risk to your life if you continue with the pregnancy.
In Northern Ireland, abortion was decriminalised in 2019, and the new legal framework came into effect in 2020. Abortion is now unconditionally legal up to 12 weeks in Northern Ireland. After 12 weeks, the law is very similar to the rest of the UK.
Click the button to read more about UK abortion law here: 
MSI UK abortion services 
At MSI UK, we offer medical abortion care up to 9 weeks and 6 days gestation (how many weeks pregnant you are).  

A medical abortion, also known as "abortion with pills", uses medication to end a pregnancy. The treatment involves taking two types of medicine at two different time. 

– The first medication that is taken, called mifepristone, blocks the hormone needed for pregnancy to grow. 
A second medication is called misoprostol, which causes the body to expel the pregnancy from the womb. 

– Every abortion we provide is extremely safe but medical abortion is the safest treatment option up to 9 weeks and 6 days of pregnancy for most people.  
A surgical abortion is a safe and simple procedure carried out by specialist doctors in a clinic and involves the pregnancy being removed through your vagina, either by using suction (vacuum aspiration) or specialised instruments (dilation and evacuation). We offer surgical abortions up to 23 weeks and 6 days of pregnancy. The type of surgical abortion procedure we offer you will depend on how many weeks you have been pregnant and your medical history.  
We provide counselling for anyone who would like to talk through their feelings in a confidential and non-judgemental environment. Counselling is available at any time before, during or after your treatment with us.  

You can also speak to one of our counsellors after you have left England. We have counselling appointments available over the phone at a time that suits you. There is no time limit to you requesting a counselling appointment after your abortion, so if you decide you would like to talk to someone at a later date, we can arrange this for you. 

To find out more about our counselling services, click here: Counselling at MSI UK  
Your care does not end when you leave our clinic. We are here to support your recovery and aftercare following an abortion.  

If you have any questions following your treatment and need support, you can call our dedicated aftercare line on 0345 122 1441. This line is available 24 hours a day, 7 days a week.  

We have a range of aftercare information available that may provide the answers you are looking for. You can find this information – and links to our aftercare booklets – here: abortion recovery and aftercare. 
As part of your abortion treatment with MSI, we can help make sure you have a method of contraception that best suits your individual needs. 

Following an abortion your fertility will return almost immediately. If you would like to start a method of contraception following your abortion, we can help. As part of your abortion care, you will be offered a range of contraceptive methods – both Long-Acting Reversible Contraceptive methods or Short-Acting methods - and we'll be there to advise and talk through your options with you. 

To find out more about our contraception services, click here: Contraception at MSI UK 
We are proud to be rated GOOD in all of our clinics
Our clients' care is at the centre of everything that we do and we work closely with the Care Quality Commission (CQC) and Department of Health to make sure we are delivering the highest quality service.
Our clinics
We provide abortion services from our network of over 60 clinics across England.

Our three main centres are each only one hour away from an airport:
Manchester
Essex
West London
You will discuss your needs and travel options during your phone consultation with one of our advisors.
---
Travelling from Northern Ireland to access abortion care
If your gestation is under 18 weeks, you will be able to access abortion care locally, in Northern Ireland.
If your gestation is over 18 weeks, you can access free abortion care in England. We will help you arrange travel and overnight accommodation.
---
How to access medical abortion care in Northern Ireland
If your gestation is under 18 weeks, you will be able to access abortion care locally, in Northern Ireland.
If your gestation is over 12 weeks, you will be able to access surgical abortion care through a regional surgical service. You will be referred to your local health trust in the first instance for triaging and consultation, and if you require treatment at the regional surgical service, you will be referred as appropriate.
For advice and to book treatment, you can contact the British Pregnancy Advisory Service on 03457 30 40 30.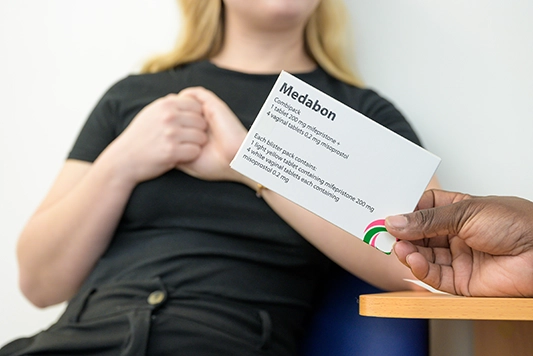 ---
How to travel from Northern Ireland access surgical abortion care in England
If your gestation is over 18 weeks, you can access NHS-funded (free) abortion care in England.
The UK Government have committed to cover the cost of abortion care for people from Northern Ireland who are treated in England. As part of your treatment, the following expenses will be covered:
Your travel arrangements and expenses
Your overnight accommodation
Your transportation expenses (e.g. taxi)
You can self-refer to abortion services in England, and do not need to tell your GP if you don't want to.
By calling the Central Booking System, we will arrange your appointment with one of the funded abortion providers available: BPAS, MSI Reproductive Choices, NUPAS and NHS partners.
To receive NHS-funded abortion care in England, you will need to:
Live in Northern Ireland (have a BT postcode); and
Be registered with a NI GP (again, with a BT postcode)
Please be assured that you do not need a GP referral to access abortion care in England, so you do not need to tell your GP unless you want to.
---
Travelling to England
You can still travel to England to access abortion services from outside Northern Ireland. We are here to support you in your decision, and provide safe, quality abortion care up to 23 weeks and 6 days of pregnancy.
If you are travelling to England and want to access abortion care privately, you can find information about our fees here: Private abortion care.
There are a number of organisations that can provide further information and support if you are looking to access abortion care outside of England, including:
Abortion Support Network who provide information on clinics, travel and accommodation, and provide financial assistance to help with cost for those who need it. This includes people from: Ireland, Northern Ireland, the Isle of Man, Malta, Gibraltar, Poland, Romania, Hungary, France, Spain, the Czech Republic and the other EU countries on a case-by-case basis.
Informing Choices Northern Ireland who provide further information on accessing abortion care for people in Northern Ireland.
Alliance4Choice who campaign for free, safe, legal abortion for everyone who needs or chooses it. They can help you understand your rights and offer support, advice, and information.
Click here to learn more: partner organisations
---
Learn more about UK abortion law
Visit the pages below to learn more about UK abortion law, the abortion services we provide, and how to get in touch with MSI UK.
UK abortion law  
Learn more about what the law says about abortion across the UK.   
Abortion services  
Learn more about medical and surgical abortion services at MSI UK.  
Get in touch  
We are here for you. Get in touch to discuss your options and arrange an appointment.